EXTENDED EMPLOYMENT SHELTERED WORKSHOP PROGRAMS IN MISSOURI
"In a study conducted in 2010, by the Department of Elementary and Secondary Education, regarding the economic providence for extended employment sheltered workshop programs, it was revealed that for every $1.00 of state aid placed in certified employee wage payout, $3.14 was put back into the economic stream of the community." –  Past DESE Director, F. Franzi – 2014

Extended employment sheltered workshop programs in America began in the state of Missouri, in the city of Sedalia in 1965, when a parent campaigned for a vocational program to better the life of his disabled child; who was finished with school and entering adulthood.  That parent's campaign led to the passage of Senate Bill 52 and the creation of an extended employment program, which created an alternative choice, for people with developmental disabilities.  Today, there are around 90 non-profits that offer extended employment sheltered workshop programs in the state of Missouri and combined they employ near 7,500 individuals with varying disabilities.
"Some individuals with significant disabilities would likely never enter the American workforce, if they were denied the choice of employment under extended employment sheltered workshop programs.  They are as deserving as any other person and should be given the opportunity to choose the employment experience right for them.  Everyone likes to take pride in our accomplishments and go home satisfied with earning an honest days' wage.  At MDI, we hope that exposure to the working world, under this program, will help employees integrate socially into their communities or help them become contributing members of society.  We know for a fact they will gain valuable work and life skills by working here." –Executive Director, C. Schaefer
MDI'S HISTORY IN MACON, MISSOURI
The extended employment sheltered workshop program for Macon county, does business in our community, as Macon Diversified Industries; or MDI for short! We are an industry modeled facility  which was established in October of 1985 as a 501(c) 3 non-profit organization.  MDI began with only 6 employees who operated in recyclables collection of recyclable corrugated cardboard but with the large number of people with disabilities ready to enter the workforce in our area, it quickly grew and began offering more job types.
Today, our facility is still small compared to some workshops and MDI employs on average between 20 and 25 employees with varying disabilities.  MDI is diverse and always changing according to the needs of its employees and the needs of the community we proudly serve.
Because of the special needs of our employees, our supervisory staff members often do "double duty" with additional responsibilities.  A typical example would involve a supervisor who was preparing bids for work with a major national corporation one minute, then assisting with the special medical needs of a worker the next.  MDI's supervisors are caring and compassionate business persons who are capable of a variety of tasks.
Our community is supportive of our non-profit needs and it is estimated that about 2/3 of our residential service area participates in one, or more, of our community services in recycling and the thrift store operation.  A recent survey studying consumerism of the MDI facility showed that 86% of the 50 participants agreed that our services were convenient and our customer service efforts were above average.  We are always measuring our services so that we can offer the best of service to our wonderful customers.  We also value anyone willing to take the time to communicate to us their opinions on how our community services' programs could be made better.
MDI'S COMMUNITY SERVICE OPERATIONS
MDI operates in community recycling because it provides a higher number of diverse job types which are easily accomplished by our employees regardless of their disability type.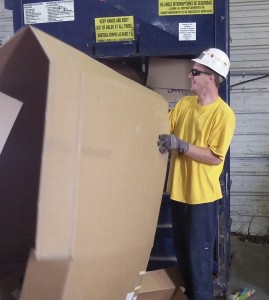 Operating in recoverable waste diversion makes MDI valuable to our community and eligible to apply for funding in the form of grants issued by the Department of Natural Resources for efforts in diversion of solid waste.
The MDI recycle center is the only recyclables collection center for a thirty mile radius of the city of Macon and area residents greatly depend upon MDI to divert recoverable waste from the Maple Hill Landfill located, "right out the back door" so to speak, in Macon County.