YOUR DONATION IMPACT
Whether you're donating a monetary gift, reusable household goods, recoverable waste, voluntary time and effort or professional services, it is always extremely valuable to our non-profit!  It is only with YOUR support that the Macon County Extended Employment Sheltered Workshop, known as Macon Diversified Industries, can thrive and exist.  "Thank you so much for your generosity and support!"
"When you donate goods to MDI's thrift store or recoverable waste to MDI's recycle center, you immediately and directly impact people you know and love, work and live with in this community.  You change and improve the health of the environment and you sustain an organization that gives back to its community too.
One completely FREE way to support and promote any non-profit organization is to TALK ABOUT THAT ORGANIZATION and its missions to others!" – MDI Supervisor, D. Spidle
OUR EMPLOYMENT MISSION – MACON DIVERSIFIED INDUSTRIES, INC
Any donation made supports MDI's capability to create job types and job positions for persons with significant disabilities and sustains our ability to offer valuable community services to the public in reuse retail and recoverable waste collection and processing.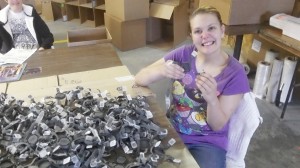 An Extended Employment Sheltered Workshop plays a valuable role in building strong and healthy communities and can help to relieve poverty found within a community.  Even the richest of people can be impoverished because poverty is NOT just a term that is related to funding or income!  It is also relative to a lack of relationships and a lack of meaning to life.
Missouri Extended Employment Sheltered Workshops, like MDI, know that a person's individual poverty can be relieved by holding gainful employment and being exposed to the working world's social atmosphere.  We know, that everyone has gifts or talent to offer and deserves to be able to work and support themselves!  MDI employees not only earn a paycheck, they learn work and life skills that help them better their way of life and positively impact their communities.
OUR RECYCLING MISSION – MDI RECYCLE CENTER
You have heard it before, "The health of the environment is everyone's concern and improving it is everyone's job."  Did you know that 80% of generated household waste is recyclable? It is!  Or that MDI has been recycling since 1987?  We have!  Supporting MDI's community service mission in recycling indirectly impacts every living thing on planet Earth!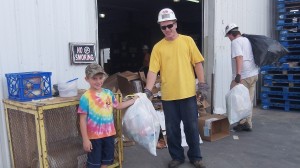 Everyone, young or old, can contribute to a better community environment and support the Sheltered Workshop's missions!
Pictured here is a young man well on his way to living the lifestyle of a "recycler" and impacting his community!
OUR REUSE MISSION – TIMELESS TREASURE THRIFT STORE
Donations freely given by the public, of household goods and apparel, make up our entire inventory at Timeless Treasure Thrift Store.  These kids of donations produce vital income to support MDI's employment mission and our retail prices are set with two very important things in mind – revenue and our community! MDI keeps prices low to ensure it can be utilized by everyone.  Timeless Treasure especially helps people provide for their families without busting their already tight budgets!
You can also rest assured that your goods donation is serving YOUR community, because our inventory stays here in Macon County and any goods that cannot be sold in the thrift store are processed as far as MDI can take them in our Recycle Center too.
A BRIGHTER FUTURE

Every non-profit organization has needs and they range from everyday mundane to vital and sustaining, but are each just as important as the next.  Needs that are filled by generous people and entities help an organization to meet its business goals and nonprofit missions.
For the most part MDI does well in sustaining itself, but daily operation expenses, maintenance on vehicles and equipment, business advertising and other costly expenses can quickly deplete a set budget to the point that there is nothing left to be considered in applying to a brighter future for MDI.  If generous people are willing to help in small ways, MDI can begin to apply our revenue to those bigger projects, like a facility expansion, that will take it and the community into a better future!
Here are a few everyday needs that MDI has!
PAPER GOODS
• Kitchen napkins
• Paper plates
• Toilet tissue
• Facial tissues
• Feminine hygiene products
OTHER ITEMS
• 4' fluorescent light bulbs
• 8' fluorescent light bulbs
• Key entry exterior to interior doors locks
• Merchandise shelving and/or display units
• 30 gallon and/or small kitchen trash bags
• Ice-Melt
 OFFICE SUPPLIES
• White copy paper
• Computer printer ink (for in-house printers)
• Computer software programs – Anti-Virus protection
• Garvey brand price sticker rolls – must be colored
• Clear packing tape
• Masking tape
• Permanent marker – black
• Post-It Note pads
 CLEANING SUPPLIES
• 409 brand cleaner
• Pine Sol brand floor cleaner
• Lysol brand spray
• Windex brand cleaner
• Purex brand laundry detergent
• Liquid hand soap
• Liquid dish soap
• Green scrub pads
• Rubber kitchen gloves
• Cotton string mop heads and mop handles
• Brooms and dustpans
PERSONAL PROTECTIVE EQUIPMENT
• Brown jersey gloves
• Leather work gloves
• Silicone palmed work gloves
• Clear, guarded eye wear
• Silicone or rubber surgical gloves
MEDICAL SUPPLIES
• Silicone or rubber surgical gloves
• Rubbing alcohol pads
• Hydrogen Peroxide
• Band-Aid brand adhesive bandages of all sizes
• Cotton balls
• Anti-bacterial ointment

COMMUNITY FRIENDS
BENEVOLENT AND PROTECTIVE ORDER OF THE ELKS
MACON ELKS LODGE #999

"Macon Elks is proud to be a supporter of the efforts of the Macon Workshop.  We seek grant funding from the Grand Lodge to help the Workshop and other nonprofits in our community and fully donate the aluminum beverage cans generated by the Lodge in an effort to show our support to the recycle program too." – Macon Elks Lodge #999, C. Arnett, E.R. 2012
The Macon Elks Lodge also fund raises, and supports financially, a "Dental Care Van" program which is used to make dental maintenance and dental care needs of disabled children and adults more accessible.  MDI has several employees that count upon the services of the Dental Van.
Pictured here are (left) Stacy Stuart, Treasurer 2015 of Macon Elks, with Office Manager, Nakia Kohn, accepting a small donation generated by the Lodge with a carry-in meal provided by the members, for members and their families.  "Every little bit helps! Thank you members of Macon Elks Lodge #999 for all you do for our non-profit organization!" – MDI Office Manager, N. Kohn.
"As an employee of a non-profit I know how important it is to get your name, face and CAUSE out there into the community.  As a member of the Macon Elks Lodge #999, I am able to share our success stories from the Workshop with the Elks members and gain their interest in our employees and our valuable community services.  I am proud to be a part of the wonderful Macon Elks Lodge and gladly presented this donation, in April 2014, to MDI's Director, Cindy Schaefer." – Dede Spidle, MDI
MISSOURI JUNIOR CHAMBER –

MACON JAYCEES

 

"The Macon Jaycees support many efforts made to improve the way of life for people with disabilities in our community and so it is only natural that we support the Macon Sheltered Workshop.  Our organization is geared to teach young people to be leaders and great leaders always take interest and action, in regards to helping others." – Macon Jaycees, 2013 Chapter President, Lorie Thompson.
The Macon Jaycees hosted an evening of education for residents interested in taking up the lifestyle of a "recycler".  Residents learned how MDI can support their community in recycle efforts and how their choice to live better and directly impact environmental issues in this area supports the employment effort of MDI.