MDI WOULD LIKE TO MEET YOU!
Employment is a part of life that everyone values for different reasons.  At MDI, we know that independence can be gained by participating in dignified extended employment and urge you to make the choice to investigate the employment opportunity found at MDI.  At MDI persons with significant disabilities can learn work skills that will allow them to take pride in their accomplishments and enjoy a fuller life.
If you are a person with a significant developmental or physical disability, you may find that you are having trouble gaining or holding a job.  If you are 18 years old or older, Macon Diversified Industries, INC  may be the opportunity you have been looking for!  Working in an extended employment sheltered workshop program will help you grow to reach your full potential, become a valuable employee to any employer and help you to gain some independence by earning a paycheck for the work you perform.
GETTING CERTIFIED FOR SHELTERED EMPLOYMENT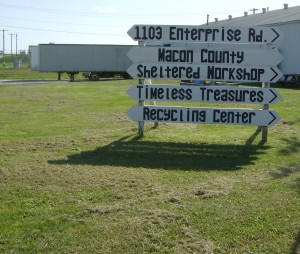 Visiting MDI is the first step!  We want to meet you and when you apply, the office staff will need specific documentation from you, which a physician may have to provide, and some personal information as well.
It is helpful if you can bring a parent, care taker or guardian along with you, so they might help you fill out your work forms.
THE JOB INTERVIEW
Upon your visit, a staff member will conduct a simple interview to see what it is you are capable of.  Not all people are the same and not all jobs have to be performed a specific way either.  The supervisors will ask you a few questions to determine if you are suitable for the work types MDI can offer at that time. MDI may also refer you to other resources for employment.
Like any employer we are looking at your value as an employee, but unlike most employers we know how to look a little deeper and see what it is YOU can offer and that could be something that you may not even see for yourself.
"The employees at MDI have a higher level of need, and some are still working on achieving basic work and social skills associated with successful employment.  Holding a job here helps them to increase their value to any employer.  Because our environment is a lot like a classroom, the employees are able to reach their highest potential and use those new skills to live fuller lives." – Production Supervisor, D. Spidle
ONCE YOU ARE HIRED AT MDI
MDI has several different job positions to offer, however, some departments may not be hiring at the time you apply for work.  If this is the case, you are placed on a hiring list and called in as soon as we can provide a job position you are suitable for.
If you are immediately hired you will have a period of training which teaches you the safety rules for the workplace and your work department.  We follow rules like any other workplace and take issues of safety in the workshop very seriously.  Keep in mind, all employees are expected to be mature, responsible persons and must be able to work well with other people.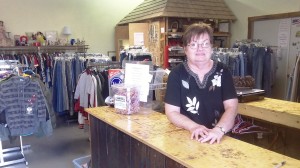 After your safety training you will be trained to do your new job.  Your supervisor is there to help you.  Training is a time of discovery for both you and your supervisor.  We have hired you knowing that we will have just the job for you, and all it takes is some patience and some practice.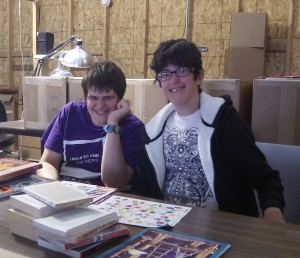 In your first few days of employment at MDI you will make new friends and learn new work skills associated with your job.  After your first few weeks of employment you will receive a paycheck for the work you have performed!
We will consider you for as many work types you are suitable for and have interest in, so that you can learn as much as possible and become as valuable an employee as you can be!
SOME WORK TYPES AVAILABLE AT MDI
Recycle Center Processing and/or Sorting

Retail Clerk and/or Retail Clerk Assistance
Maintenance and/or Housekeeping
Our business and community service operations are always changing. So be sure to check with us often about the different types of work MDI may have available for you.
Meet "Big" John! He has been employed, off and on, at MDI in the hand assembly production department, since 1987!
He lives at a local nursing home and while he has friends there and activities he can participate in, he says this about his employment opportunity at MDI, "It is nice to be tired at the end of the day and have a reason for it, instead of being tired just because I'm bored."