WELCOME TO MDI'S
RECYCLE CENTER!
LET'S EXPLORE MDI'S RECYCLE CENTER
Where can you drop off your recyclables in Macon, Missouri?  Right here at MDI's Recycle Center of course!  The satisfaction gained, by participating in recycling, be it at home, at work, at church or even public places, can be a fulfilling part of anyone's life.  In your community, MDI is here to help you experience that incredible feeling and begin living the life and lifestyle of a "Recycler".
Macon County Sheltered Workshop's Recycle Center operation is a valuable and beneficial community service that processes recyclable materials for area residents and businesses.  It has been in action since 1987.  We are located at the corner of Enterprise and Patton Road in Macon, Missouri.
Recycling helps us to completing our most important non-profit mission of employment for people with significant disabilities.  MDI helps people live independent lives by holding a job.
We are very proud of the growth of our recycle center and will continue to evolve with the needs of our community in the future.  We are always looking for ways to make our services more comprehensive and expansive.  Our Recycle Center sustains the life span of the area landfill operated in our very own county, which is estimated by its current operators to only have 80-90 years of service left to the community.
Recycle Supervisor, W. Murphy – "It is extremely important to us to keep as much recoverable waste out of the landfill as possible.  This is why we focus on our commitment to great customer service and appreciate the businesses that support us by using our collection services."
We do offer residential pick-up services of recyclables!  This service is based on volume and service area and our ability to accommodate the request.  A small fee, to recover fuel costs, will be asked for at the time of services rendered.
We offer contracts for local businesses for weekly pick-up services!  This service is based on volume and your business will be billed for a monthly charge to recover fuel costs.
The waste dumpsters at MDI are for our facility's use only and for facility trash.  Please do not use them for your personal use, scavenge items out of them or place your recyclables into them. Thank You!
"I love the diversity found in our workplace, our community and in our customer base. It is a pleasure helping others and in turn, improving the health of our community." – Recycle Supervisor, Mike Birdsong
Every donation made to the Recycle Center helps MDI to present a job opportunity to someone deserving of the right to choose their employment circumstances and to enter the American workforce in an effort to support their way of life.
THE "NO-NO" LIST OF CONTAMINANTS
MDI's one important request, please donate recyclables, NOT TRASH!
The lifestyle of a recycler is easy to live and MDI is here to help you. We do have one important request of your participation in our recycle program. "TRASH" can really hamper our program and can actually hurt our employees.  Recyclable materials become "TRASH" when they are contaminated by these things:
NO – Food waste residue or poisonous bacteria created by spoiled food or liquids

NO – Hazardous chemical content or exposure

NO – Blood-borne pathogens created by human and/or animal blood and body waste – no used TP, used paper towels, used tissues or used disposable diapers please!

NO – Evident mold or mildew growth
MDI teaches our hard working employees every safety measure possible and we work at all times in appropriate personal protection gear for the job assigned.  But the best safety measure is to prevent exposure to harmful and usually unseen by the naked eye, threats from "TRASH" in the first place.
The unintended result of participants not following our Recycle Center's simple request for CLEAN AND DRY RECYCLABLES is injury and harm to employees and we wish to express our gratitude for caring enough to fulfill this need.  "THANK YOU"!
AFTER-HOURS DROP OFF
TO ENSURE YOUR DONATION RETAINS IT VALUE, PLEASE FOLLOW THESE GUIDELINES FOR AFTER-HOURS DROP-OFF!
For items that can resist inclement weather and get wet, such as, cardboard, metal items and accepted plastics, resin coded #1 and #2, just use the collection bins outside, in front of the Recycle Center.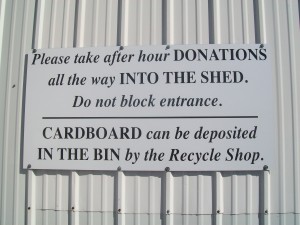 For items that should be kept dry and out of inclement weather, such as paper and books, clothing and shoes, and items intended for the thrift store, we ask that you use the small shed provided on the property.
Please carry your donations all the way into the shed and do not block the entrance.  Others may want to utilize the shed also.  PLEASE DONATE CLEAN AND DRY MATERIALS!
LOCATIONS OF BINS AND DROP-OFF POINTS
At MDI we know that participation in the effort to recycle must be convenient!  You can always visit our Recycle Center at 1103 Enterprise Road in Macon, on the corner of Enterprise and Patton Road in the industrial area of south Macon.  Donating recoverable waste to the MDI Recycle Center is easy!
Stop in Monday through Friday from 8:00am to 4:00pm and if you need assistance to unload; stop in at the office or thrift store and ask for some help.  Our employees will gladly help you unload your items with a smile and a gracious "Thank You".

The "BIG YELLOW BIN" is located outside of the local Macon Walmart Store on the east entrance.  This bin was built with grant funding given by Walmart's Community Grants!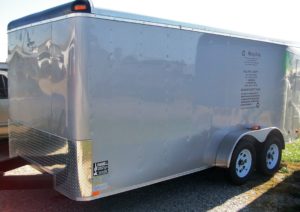 Haul trailers serving as collection points are conveniently located and available in Bevier, Atlanta, LaPlata, Callao and New Cambria of Macon County.  Call your city hall office for location addresses.
These trailers, which are used by MDI for collection of recyclables in our counties, small outlying towns, were purchased by the Economic Development Office of Macon on grant funding sourced from Mark Twain Solid Waste District Region G, via the Missouri Department of Natural Resources.  This convenience has really increased MDI's recoverable waste diversion rate!
ABOUT PLASTIC RESIN CODES



For now we only accept resins #1 and #2 because our limited space is a huge problem! We appreciate your patience and hope to expand soon!"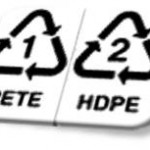 Sorting and processing plastics is an extensive job requiring more space than the workshop has at the moment. We are looking for funding sources to help us resolve this issue by funding the construction of a second building to house this particular material.
Until we can grow our capacity to handle the extra materials, we ask for your patience. The MDI team wants to be a full service Recycle Center for the health and well being of our community and realize that recycling must be convenient to participate in.  We will do all we can to increase our recycling services to full capacity. To date, our Recycle Center is only capable of processing plastics RESIN CODED #1 and #2. These items usually have a screw top and lid.
REMEMBER TO DONATE CLEAN AND DRY MATERIALS!
ACCEPTED RECYCLABLES LIST