TIMELESS TREASURE THRIFT STORE IS…
A GARAGE SALE SEEKER'S DELIGHT;

A CRAFTER'S HAVEN;

A COLLECTOR'S PARADISE;

A BUSY, BUDGET MINDED PARENT'S SANCTUARY!
Timeless Treasure thrift store, located at 1103 Enterprise Road in Macon, Missouri, is a valuable and beneficial community service operated by Macon County's extended employment sheltered workshop program.  It opened in the year 2003 and quickly became an awesome reuse program and wonderful community service.
It is stocked with public donations of all kinds of useful household goods and clothing.  We keep our general prices low and our quality standards high.  The best part is, when you donate goods to Timeless Treasure, your donation stays right here in your own community, helping people you know, love, work with and live next to.
HOURS OF OPERATION
Timeless Treasure Hours
Monday-Friday 9:00am-3:30pm with Tuesdays open late to 6pm.
Closed on some Holidays – (660) 385-3111
CASH OR CHECK ONLY PLEASE!
AFTER-HOURS DROP-OFF
TO ENSURE YOUR DONATION RETAINS IT VALUE, PLEASE FOLLOW THESE GUIDELINES FOR AFTER-HOURS DROP-OFF:
For items that can resist inclement weather and get wet, such as, cardboard, metal items and accepted plastics, resin coded #1 and #2, just use the collection bins outside, in front of the Recycle Center.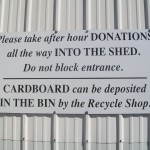 For items that should be kept dry and out of inclement weather, such as paper and books, clothing and shoes, and items intended for the thrift store, we ask that you use the small shed provided on the property.
Please carry your donations all the way into the shed and do not block the entrance.  Others may want to utilize the shed also.  PLEASE DONATE CLEAN AND DRY MATERIALS!
YOUR IMPACT WHEN YOU DONATE
When you donate your quality, second-hand household goods and apparel, to the Timeless Treasure thrift store, you are supporting MDI's ability to provide jobs for people that want to work, who have significant disabilities.
No donated gift, made to our non-profit, intentionally goes to waste!  If at all possible, MDI processes anything left unsold in their Recycle Center.
MDI issues receipts for tax deduction purposes for goods donated to be sold in the thrift store, but the donor must present their donation directly to a staff member in person, for processing.  Items donated after hours are not able to be processed for a tax deduction receipt!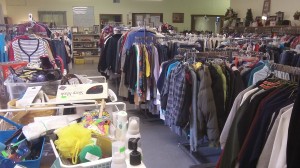 If you donate to Timeless Treasure, we wish say to you…
"Thank you, for your wonderful gifts!"
 WHAT PEOPLE ARE SAYING ABOUT OUR THRIFT STORE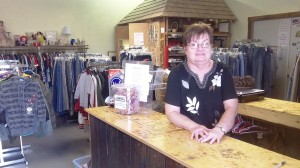 "I love hearing customers tell me they love the store and love to visit.  We even have out-of-state customers that always visit when they come through Macon.  I like seeing them find a good deal on the things they need too." – Employee Sales Clerk, S. Frost
We asked a few customers to recall their best "prize finds" that they had purchased at Timeless Treasure, and one replied, "I bought moving boxes for my home move and they worked very well for my needs."
Another customer stated she, "spent $50.00 on a wedding gown that was near new and fit like a glove."
While still another customer had this to say; "Without Timeless Treasure, I couldn't afford to keep my kids in clothing for the summer. They tear clothes up playing all day. I love the special sales you have each week too. Lots of bargains!"
WHY QUALITY COUNTS TO US
When it comes to donating household goods for resale think GOOD QUALITY, OPERATIONAL, as well as, CLEAN AND DRY and please don't donate your TRASH!
NO – TELEVISIONS OF ANY KIND – operational or otherwise
NO – Non-operational, large electronic or electric items – especially those that contain hazardous waste substances
NO – Soiled or broken furniture or bed sets
NO – Baby cribs or car seats of any kind

NO – Items that have mold and/or mildew on them

NO – Items with blood borne pathogens-human or animal-blood or body fluids

NO – Items that are infested with pests, such as bugs and mice

NO – Perishable food items
MDI accepts most any household goods donation with a good resale value.  That value, however, is under the scrutiny and determination of the managers of the thrift store.  Your goods donation may be politely refused if it has no value to our non-profit.  We don't mean to be inconsiderate of your gift, however, our space for inventory and merchandise is very limited, so we must consider our situation, and our purpose, and ensure the value of your gift before receiving it.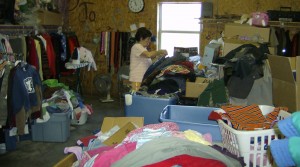 Reusable clothing and shoes are by far the thrift store's biggest inventory and commodity.  We have sizes for the whole family and run sale specials each week on clothing.  We also need donations of things like working electronics, books, music and media, dishware, cookware, kids' toys, jewelry, nick-knacks and furniture of any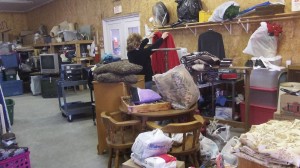 size.
The list goes on and on!  We especially love receiving donations of leftover garage sale or auction items and can offer pick-up services inside Macon City limits for a small fuel recovery fee.
Call (660) 385-3111 for information.
KEEP IN TOUCH WITH US

 
TIMELESS TREASURE 'INSIDER' E-MAIL LIST
E-mail us today at
timeless.treasure@hotmail.com
and you're in! Opt out at any time and rest assured you will only hear from us once a week and we would never share or sell you information with others!
You get news on weekly store specials, events, emergency/planned closings, giveaways, and more!
If you have questions, comments or concerns, just let us know!
You can also visit us on Facebook social media at "Timeless Treasure Thrift Store"
Click the button below to go visit and "Like" our page!